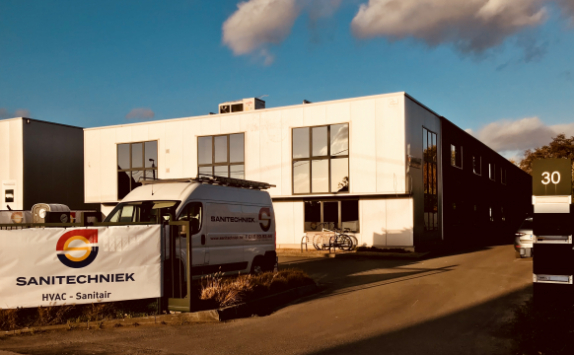 Info
Sanitechniek PVBA was founded in 1984; then, after the expansion of our activities, Sanitechniek NV was founded in 1987. Sanitechniek has been a part of the Willemen Groep, Belgium's largest family-owned construction company, since 1999. Our team consists of 50 motivated employees.
Contact
Drevendaal 30
2860
Sint-Katelijne-Waver
Belgium
SANITECHNIEK is your partner for professional HVAC and sanitary installations, and not just a partner who carries out your projects, but who brainstorms together with you.
We engineer and install central heating, cooling, mechanical ventilation, air conditioning, sanitary facilities, and firefighting systems.
We emphasise renewable technologies, like solar energy, (gas) heat pumps, soil energy technologies, cogeneration, and biogas installations.
We make it a point of honour to complete every construction project with the utmost care: good service and quality are key.
 
The benefits of working with Sanitechniek:
Coordination
A single point of contact coordinates the entire technical realisation of your construction project. We make sure that the planning is clear so that you have a precise view of the activities at all times.
Expertise
You benefit from our years of experience.
Gas habilitation
We can approve and start up your natural gas installations without needing an accredited body to act as middleman.
Independence
Sanitechniek has a direct link to suppliers, which means we can act as a neutral advisor.